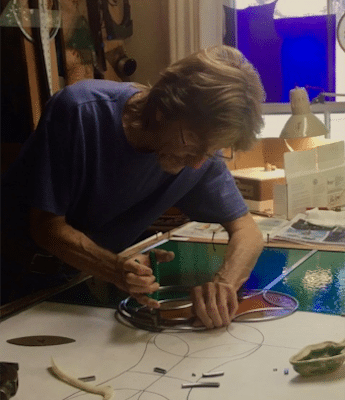 I began building stained glass panels in Austin, Texas, apprenticing with the major studios there.    Independent commissions ensued, encouraged and enlightened by training with the late German master, Ludwig Shaffrath, at the international Pilchuck Glass School.
I work with many approaches to glass compositions, including bevels, sandblasted, and painted treatments, combining these with inherent beauty of mouthblown European glass. For architectural treatments, my designs consider the graphic use of lead lines and the textures of the glasses as important as the colors I choose. All of these elements are aimed at a harmonious blending of the glass, the space, and the users of the space. Because of the power of stained glass to transform the primary impression of light, and give to images distinctly numinous qualities, designing with it is always exciting.
I live in Albuquerque, New Mexico.